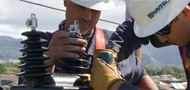 Services include design/build, program management, construction management, general contractor and subcontractor, with a strong commitment to ensuring that client objectives are achieved. CC Veteran Services primary clients are the U.S. Army Corps of Engineers (USACE), Naval Engineering Facilities Command (NAVFAC) and General Service Administration (GSA).

CC Veteran Services has developed a streamlined construction process in order to reduce costs and speed up overall delivery of our design/build projects. Providing quality facilities to our military client is our top priority. That stated our goal is to reduce construction cost and to reduce the time required to occupancy.
Mission
Our mission is to consistently deliver, and continually improve value to our customers. As a foundation for our daily activities we are committed to honesty in everything we do, meeting our customer needs, good supplier relationships, the safety, well being and professional growth of our employees, and responsibility to community and environment.